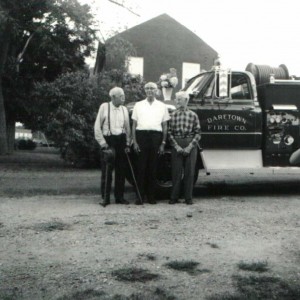 In the late fall of 1928, in the back room of the Abbott and Hawn Store in Daretown a few men from Daretown and the surrounding areas came to discuss the need for a fire company in Daretown. A community-wide meeting was brokered, and then held in the Daretown School on December 4, 1928 for citizens to come together in organizing a Daretown Fire Company. The January of 1929, the fire company came into being with 24 charter members. The first chief was R.C. Cole, an undertaker whose business was in Daretown. A building lot was purchased from the Paulding family in June 1929 and the firehouse construction started in November 1929, seeing completion in Spring 1930. The original station was just two bays with one wooden single hinge door. The present station stands on that original lot.
Soon after the organization in 1929, a chemical apparatus was purchased second hand from Liberty Fire Company of Salem for $500.00. In September of 1935 the Company felt the need for new equipment. After getting several bids, the Company decided to purchase a 1-1/2 ton chassis from Rupert Matlack Auto in Daretown and then have the body built by Philadelphia Fire Truck Company of Roselyn PA.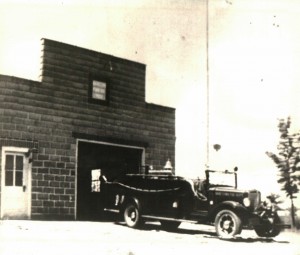 About ten years later, in March 1944, the Company purchased a tank truck. Prior to that, they hauled water in milk cans on farm trucks. In December of 1956, the company decided to replace the tank truck with a larger and better one, purchasing a 1952 Chevrolet 1500-gallen tanker.
Like a lot of companies there were some up and down years from the 1950's into the early 1960's. As membership began to pick up, the original single hinge door was replaced and a new 1968 Chevrolet pumper built by Bruco was purchased (1000 gallons, 350-gallon per minute pump). This restarted the interest in the company. By 1970 the company decided two pumpers were necessary, but the original two bay station would need to be expanded. In early 1972, 40 feet was added behind the original station to make space for two more engine bays, bringing the station capacity to four pieces of apparatus. A second pumper was then purchased new in 1972.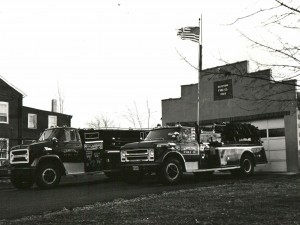 Within a few short years, the need to widen and heighten the front section of the station saw the original station being pretty much demolished and rebuilt into the station it is today. Daretown Fire Company has matured from its start in 1929 with just one used engine to the company of today with two engines, a tanker and a fire/rescue unit (See Our Apparatus Page for More). The membership stands with over 30 firefighters, comprised of both veteran and young, eager firefighters.
Find out more about our Apparatus, by clicking here, and about our Officers.
More Photos